Windows 3D Movie Maker
From Misc Data Digs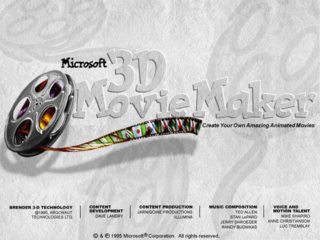 Developed by: Microsoft Kids
First Released: October 15, 1995
Type of Software: General Multimedia

This software has unused texts.
This software has developer-related easter eggs.

Demo Video
[
edit
]
Hidden inside 3D Movie Maker's files is a video showcasing a demo version of the program. This version is present in all regions, even in the correct languages.
Secret "Socrates" Video
[
edit
]
Opening BLDGDATA.CHK as a video will reveal that it's actually just an .AVI file renamed to .CHK. To view it in the program, you need to type "socrates" while viewing a talent book page. It starts with text "3D Movie Maker Team", and includes talking with several members of the development team.
Hidden Credits
[
edit
]
Hidden inside the CD is a file called 3DMOVIE.MS, which is just a .3MM file with a different extension. This can be accessed without renaming the file by performing the following:
Go to the Studio
Click Scene Choices
Hold Control and click Cancel
Click the Portfolio
Hold Shift and click New
Hidden Texts
[
edit
]
Contained inside the executable are various compilation strings:
$Id: fixed386.asm 1.23 1995/07/28 19:01:43 sam Exp $
$Id: surface.c 1.11 1995/03/29 16:41:24 sam Exp $
$Id: matrix34.c 1.4 1995/03/01 15:26:13 sam Exp $
$Id: actsupt.c 1.8 1995/05/25 13:22:59 sam Exp $
$Id: fwsetup.c 1.22 1995/07/28 19:01:53 sam Exp $
$Id: pick.c 1.14 1995/06/30 16:01:20 sam Exp $
$Id: light24.c 1.5 1995/03/01 15:26:08 sam Exp $
$Id: matrix4.c 1.2 1995/02/22 21:42:11 sam Exp $
$Id: envmap.c 1.11 1995/03/01 15:25:57 sam Exp $
$Id: light8.c 1.7 1995/03/29 16:41:16 sam Exp $
$Id: light24o.c 1.5 1995/02/22 21:41:59 sam Exp $
$Id: light8o.c 1.6 1995/03/01 15:26:09 sam Exp $
$Id: diag.c 1.1 1995/07/28 19:03:10 sam Exp $
$Id: brlists.c 1.4 1995/02/22 21:41:24 sam Exp $
$Id: transfrm.c 1.17 1995/03/16 11:57:10 sam Exp $
$Id: register.c 1.12 1995/03/16 11:57:07 sam Exp $
$Id: resource.c 1.8 1995/05/25 13:24:04 sam Exp $
$Id: regsupt.c 1.4 1995/03/01 15:26:21 sam Exp $
$Id: def_mdl.c 1.13 1995/03/29 16:40:59 sam Exp $
$Id: pmmemops.c 1.4 1995/07/28 19:02:08 sam Exp $
$Id: memloops.asm 1.4 1995/07/28 19:01:58 sam Exp $
$Id: file.c 1.5 1995/07/28 19:01:42 sam Exp $
$Id: def_mat.c 1.4 1995/02/22 21:41:31 sam Exp $
$Id: angles.c 1.12 1995/02/22 21:41:21 sam Exp $
$Id: quat.c 1.11 1995/02/22 21:42:28 sam Exp $
$Id: prepmatl.c 1.6 1995/02/22 21:42:24 sam Exp $
$Id: prepmesh.c 1.34 1995/05/30 16:55:13 sam Exp $
$Id: pmgenops.c 1.5 1995/07/28 19:02:06 sam Exp $
$Id: fnt3x5.asm 1.5 1995/06/30 16:01:07 sam Exp $
$Id: pixelmap.c 1.16 1995/07/28 19:02:01 sam Exp $
$Id: fixed.c 1.10 1995/02/22 21:41:42 sam Exp $
$Id: pmdsptch.c 1.5 1995/07/28 19:02:02 sam Exp $
$Id: zbrendr.c 1.35 1995/07/28 19:04:09 sam Exp $
$Id: zbsetup.c 1.17 1995/03/01 15:49:55 sam Exp $
$Id: zbmesh.c 1.66 1995/07/28 19:04:06 sam Exp $
$Id: zbmeshp.c 1.19 1995/03/01 15:49:52 sam Exp $
$Id: bbox.c 1.21 1995/02/22 21:53:27 sam Exp $
$Id: zbmeshe.c 1.18 1995/03/01 15:49:50 sam Exp 
$Id: tt24_piz.asm 1.4 1995/05/25 13:25:21 sam Exp $
$Id: tt15_piz.asm 1.4 1995/05/25 13:25:19 sam Exp $
$Id: ti8_piz.asm 1.23 1995/05/25 13:25:17 sam Exp $
$Id: zbmatl.c 1.4 1995/03/01 15:49:47 sam Exp $
$Id: decal.c 1.2 1995/03/01 15:49:32 sam Exp $
$Id: mesh386.asm 1.30 1995/05/25 13:25:08 sam Exp $
$Id: zbclip.c 1.3 1995/03/01 15:49:44 sam Exp $
$Id: safediv.asm 1.4 1995/05/25 13:25:13 sam Exp $
$Id: onscreen.c 1.9 1995/02/22 21:42:16 sam Exp $
$Id: fileops.c 1.32 1995/06/30 16:01:03 sam Exp $
$Id: prelight.c 1.1 1995/03/29 16:41:47 sam Exp $
$Id: datafile.c 1.36 1995/06/30 15:50:01 sam Exp $
$Id: bswap.c 1.12 1995/05/25 13:23:11 sam Exp $