On Thursday, approximately 10AM UTC, we'll be performing our MediaWiki 1.34 deployment. Please expect some downtime, we apologise in advance for any inconvenience!
Windows 3D Movie Maker
From Misc Data Digs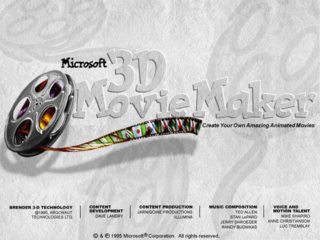 Developed by: Microsoft Kids
First Released: October 15, 1995
Type of Software: General Multimedia

This software has developer-related easter eggs.

Demo Video
[
edit
]
Hidden inside 3D Movie Maker's files is a video showcasing a demo version of the program. This version is present in all regions, even in the correct languages.
Secret "Socrates" Video
[
edit
]
Opening BLDGDATA.CHK as a video will reveal that it's actually just an .AVI file renamed to .CHK. To view it in the program, you need to type "socrates" while viewing a talent book page. It starts with text "3D Movie Maker Team", and includes talking with several members of the development team.