Windows 95
From Misc Data Digs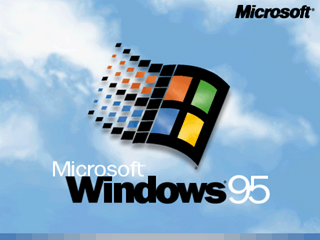 Developed by: Microsoft
Published by: Microsoft
First Released: August 15, 1995 (for Manufacturing); August 24, 1995 (for Retail)

Subpages
[
edit
]
Prototypes
Take a gander at all the UI changes that happened behind the scenes.
Hidden Credits
[
edit
]
To do:
Describe the help topics easter egg. It's a bit more convoluted.
Explorer
[
edit
]
Create a new folder
Rename the folder as so, in the following order (without quotes)...

"and now, the moment you've all been waiting for"
"we proudly present for your viewing pleasure"
"The Microsoft Windows 95 Product Team!"

Open the folder to see the credits appearing on top of a cloudy BG, as well as a unique piece of music (hidden inside shell32.dll)
This can be seen in action here.
Registration Wizard
[
edit
]
Hidden inside regwiz.exe at 0xCFD3:
- Software development: Tracy Ferrier
- Program management: David Gonzalez, Peggy Angevine
- Quality assurance: Sharmilli Ghosh
- Special thanks to: Evelyn and Lauren

Mail Client
[
edit
]
Open about the about box, highlight one of the files listed, then type in ```MORTIMER```.
Internal Texts
[
edit
]
MSCDEX.EXE contains this header at 0x52F4:
;    Translation:  USA
;
; File MSCDEX.MSG -- Message file for MSCDEX.EXE CD-ROM FILE SYSTEM
;
;
;**************************************************************************
;
;  NOTE TO TRANSLATOR: TRANSLATE THE INFORMATION BETWEEN QUOTES " " ONLY.
;  If more than one line is needed, begin the next line with db followed
;  by the text between " " and end each line with 0dh,0ah. Thanks.
;  Do not remove or translate %c %d %s %ud %uld %d.0%d as these mark
;  replaceable parameters for MSCDEX.EXE.
;
;  Use the ';' (semi-colon) character to mark non-message lines.
;
;**************************************************************************

Regional Differences
[
edit
]
Timezone Map
[
edit
]
The original version of Windows 95 included a timezone map with a real world map matching up with the time zones at the time. However, geopolitical issues, particularly including India's issues with Kashmir, resulted in a unique version without this map. Later versions of Windows 95 omitted this completely.
Japan-Exclusive Materials
[
edit
]
One unique background and one unique screensaver with falling leaves.